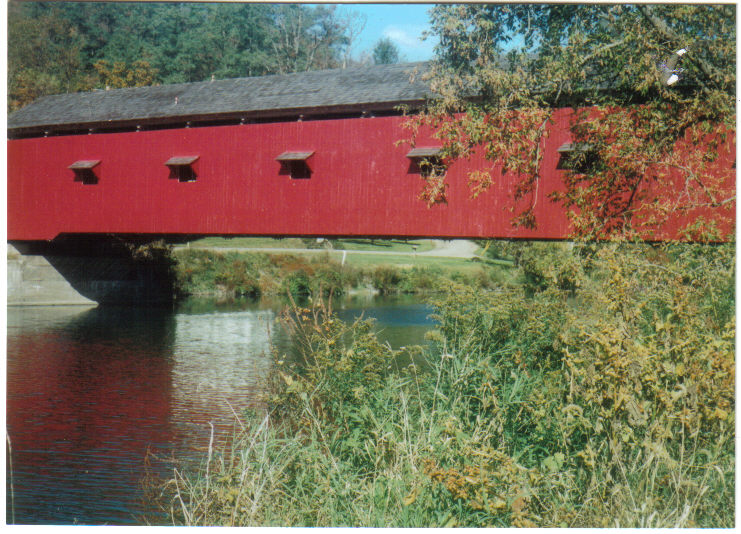 WELCOME
LLOYD'S BRIDGES

SPRING IS HERE

MY PROJECT THIS SUMMER IS HELPING BUILD A VANS RV 12

DO NOT FORGET THE GREATEST LOVE OF ALL JOHN 3:16

BE BLESSED AND BE A BLESSING

I am Lloyd, spelled with two L's because my mother stuttered when I was born. I live in the Albany area of New York State. I've lived a full life and would like to share my interests with you.
My interests are covered bridges, aviation, railroads, lighthouses, history and whatever grabs my brain any day. I am retired after 30 years in oil heating service. I also have experience with gasoline dispensing systems and dairy farm equipment. My hobby is humor writing. Serious stuff has been published in Oilheating Magazine, now renamed Indoor Comfort Marketing.
CONGRATULATIONS TO ME. I have just been published again on HumorPress.com. The results were just released for their latest writing contest. I have finished as high as second place. To read these entries, click on Lloyd's Humor below. Click on Certificates to see licenses diplomas etc.

FEATURED BRIDGES Each month I will try to feature a covered bridge which I think may be of interest to you. Just click on Featured Bridge below to see the current and past featured bridges. I finally got the truss page up. The trusses are the bones of a bridge. Click on Bridge Trusses below for information about the most important part of a covered bridge. Click on Glossary to find parts of a covered bridge explained. I will try to answer bridge questions on the Why Questions page. If you have a question, ask and I will try to answer.
TRAIN WRECKS Three train wrecks, more are coming, I promise. Click on Train Wrecks and check it out.
Lloyd's Bridges is free to you and almost free to me because of advertising. I have no control over the pop ups. The web server is very strict about content, so I do not think any pop up ads will distract from the content or be offensive. The Advertisement page is now up, please click on ADVERTISMENTS for ads approved by Lloyd.

The finest music site is Deewebs Potpourri. Check it out, you will not be disappointed.
LLOYDSBRIDGES ONLINE STORE IS NOW OPEN
Get this travel cup or a ceramic coffee cup and more great covered bridge items.
PLEASE SIGN THE GUEST BOOK BELOW
The guest book response is what keeps me going

CLICK (HERE) TO EMAIL LLOYD
COVERED BRIDGE PAGES
Featured Bridge Bridge Trusses Why Questions Glossary Train Wrecks
BIBLE PAGES

How about Bible Nutrition Bible 3:16's Good Book

HUMOR PAGES
Lloyd's Humor Lloyd's Certificates

OTHER PAGES

About Lloyd's bridges Here is a poem I wrote. My wife Donna

EXTERNAL LINKS
New stuff will be added often, come back soon!
DON'T FORGET TO SIGN THE GUEST BOOK

BEFORE SUBMITTING YOUR MESSAGE YOU HAVE TO DO THE COLOR BLINDNESS TEST. THIS CODE IS FOR SPAM PREVENTION. THIS MUST BE DONE OR YOUR MESSAGE WILL NOT REGISTER!